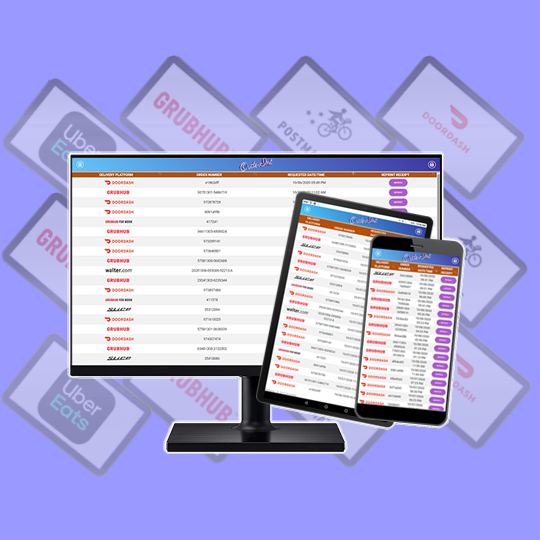 Seamless Integration
The pandemic has changed us all and thus the ecosystem we spent decades building. Food delivery services have surged during the pandemic, a trend that could continue even beyond COVID-19. It makes more sense now than ever for restaurants to generate more revenue by partnering with as many delivery services as possible.
But new problems arise when each delivery service provider supports its own standalone device with its own proprietary software. This situation makes it difficult for restaurant owners and operators to manage orders from different sources. The side effects of this inherited mess include low order accuracy, increased turnaround time, lost orders and ultimately lost customers.
We provide solutions that enable restaurants owners and operators like you to manage orders seamlessly, which reduces errors and improves operational efficiency. You can manage all of your orders through a cloud-based dashboard from any device, whether it's a smartphone, tablet or PC. We also offer a POS-integration solution so both your online and in-store orders can be managed seamlessly.
---
Built for Growth
Whether for the front or back of the house, we design our solutions to save time spent manually handling online orders so your staff can focus on making more dough.
Improved Customer Experience
Order tracking from start to finish, prevents missing orders

Barcode scanning to prevent orders from being delivered to the wrong customers

A consistent print format across platforms to prevent order errors

Auto-confirmation and printing, which reduce turnaround time
Low Cost
Priced for small businesses

1000 orders/month plan starts at just $39.99/month
Flexible Plans
Four simple tiered plans to choose from

Seamless upgrading as you grow

No contract - you pay monthly or one time yearly at a discounted price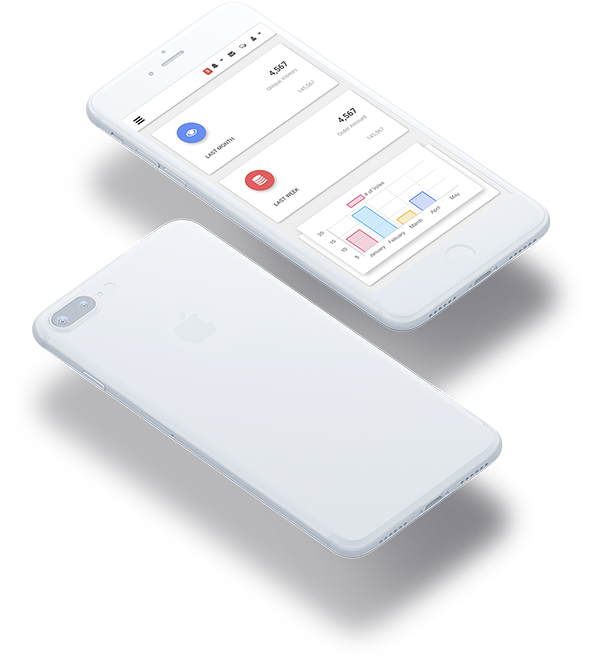 Cloud Based App
A cloud-based, responsive Web app for order management

No more app update nightmares
Business Insights
Powerful reporting tool to optimize your menu and grow your business
Optional Storefront
Your own branded online store

Your own responsive Web app for mobile ordering

Payment processing

Seamless integration with our order-management app

No Commission for online orders

Features include delivery dispatch, smart scheduling and smart promotions
About Us
The founder of Orderint has extensive experience from years in the restaurant industry and the technology sector. In fact, Orderint was born from its founder's need to sustain his low-margin restaurant businesses by maximizing order revenue with minimal resources. Today, we have the best and most innovative team in the industry, and we are backed by a major Silicon Valley investor.
Our Solutions
Unlike other order-consolidation services, we support many existing hardware devices, which reduces the number of devices you have to maintain on your premises. For instance, we support all major brands' receipt and label printers so you don't have to find space for a new one. And you don't have to maintain a tablet to manage your orders. All orders incoming will be accepted and printed automatically.
1
Print Orders
The online orders will be routed directly to configured printers. All incoming orders will be accepted and printed automatically. Our software supports receipt printers from most major brands, such as EPSON and STAR, so you can use your existing printer to print all of your online orders. We also support label printers from most major brands, such as Zebra and Dymo. Barcodes on printed labels can ensure your orders are tracked properly and thus reduce mishandling of orders by your staff.
2
Display Orders
All online orders will be shown on a kitchen display. Our kitchen display app makes managing the kitchen workflow a breeze. You can have as many screens as you need, each assigned to different stations to optimize the workflow. And you won't need expensive hardware to go paperless. You can use any tablet that supports a Web browser, and you can choose the screen size based on the mounting distance for better visibility. The app provides many cook-friendly customization features. Kitchen displays can be complemented with label/receipt printers to make your order management more powerful.
3
Branded Storefront
This is the best value solution. You get both third-party online order management and your own branded online store order management in one low-cost package. This package features a powerful, responsive, mobile-friendly Web app that supports smart scheduling, which gives you control over throttling orders during peak hours. Throttling occurs across all orders received, including third-party online orders. And if you don't have in-house delivery drivers, you can assign all delivery orders from your storefront to DoorDash through our delivery-dispatch feature. DoorDash charges a flat fee for delivery services. This solution also provides a path to replace your decades-old POS in the future.
4
POS Integration
We also offer a POS-integration solution so your POS can handle your order management. But beware: your POS may limit your order-management capabilities. Unlike the other three solutions, this is a standalone solution and can't be complemented with other solutions. Currently, Square is the only POS platform we support, but other platforms are in the works.
---
Plans and Pricing
Choose the annual plan and save up to 30%
Print Orders
$39/month
$368/year
With the annual plan, you save $199, including the setup fee
Up to two receipt printers and one label printer
Includes a cloud-based order app
Requires a print server which costs $99
Setup fee $99 (waived with the annual plan)
Up to 1,000 order transactions per month
$10 for 500 additional transactions
Display Orders
$49/month
$488/year
With the annual plan, you save $199, including the setup fee
Everything in Print Orders plan PLUS

Support up to three stations
$10/month for three additional more stations
Includes a touch-based cloud app
Seperate queues for each station to track orders
Supports one wireless barcode scanner
Branded Storefront
$79/month
$748/year
With the annual plan, you save $299, including the setup fee
Everything in Display Orders plan PLUS

Your own branded online storefront
Smart order scheduling
Doordash-drive delivery dispatch
Payment processing
Seamless integration with the order app
Puts you one step away from replacing your POS
POS Integration
$49/month
We simply route all orders to your POS

—

standalone solution, doesn't work with our other solutions.

Your POS handles the order printing, reporting, etc.
Onboarding might take up to 4 weeks.
POS might limit the order-management capabilities.
Currently we support very few POS

—

Contact us for supported POS vendors
---
Contact us
If you have any questions, please fill out and submit the following form with your contact info. Our representatives will respond as soon as possible.